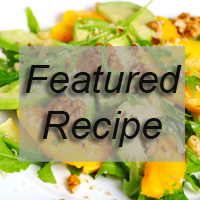 Japanese-style Sesame Ginger Noodles
Serves 3-4
(No dairy; with options for gluten, grain and nightshades)
Light and more-ish with subtle, smoky punch. All the ingredients mentioned are now available in supermarkets. Ceres is a good organic brand that produces the sesame oil, mirin (rice wine used in cooking) and rice vinegar. Check the label on the sweet soy sauce (kecap manis): some contain wheat; some use palm sugar* or cane sugar. Or make your own combination of tamari* and palm sugar.
While dried shiitake* mushrooms are widely available, even nicer is to find a packet of mixed dried Asian mushrooms from Asian food stores and some supermarkets. These add a variety of shapes and textures to the dish – as well as soluble fibre, protein, B vitamins and valuable minerals such as selenium low in New Zealand soils. Shiitake mushrooms are particularly notable for their immune boosting help. See the HEALTH STORE page for my Good Health Solutions' report on How to Thwart Invaders and Build Strong Immunity.
A classic and texturally ideal choice for this dish is to use Japanese Udon noodles (contain wheat). These are substantial and resemble thick spaghetti. Another option is Japanese soba noodles which are usually made mostly from buckwheat with some wheat flour. Health stores have some brands that are 100% buckwheat and thus gluten-free. Or use Orgran buckwheat pasta* shapes (in supermarket, but less authentic and filling). Or from speciality stores (such as Farro) try grain-free Explore Asian Organic Black Bean Spaghetti.
Although sesame oil is more often used near the end of preparing Asian dishes, here it provides aroma and smoky flavour as well as useful cooking service when done over low heat. This main dish is fairly light and best served with a salad with some added protein. See the easy and delicious options below.
150 g udon, soba or other buckwheat noodles, or black bean spaghetti (see above for options)
***
2 tsp toasted sesame oil*
1 large red onion, sliced
1 cup chopped cabbage
1 carrot, thinly sliced
2 tsp chopped gingerroot
2 large cloves garlic, chopped
1 small chilli, chopped (or add pinch of wasabi* to sauce)
***
½ cup soaked, squeezed, chopped shiitake* or mixed Asian mushrooms
200 g chopped smoked fish (smoked eel is traditional), or 185 g tin tuna, drained
½ -1 tsp sea salt with kelp* (depends on fish used)
***
Sauce:
4 Tbsp sweet soy sauce
3 Tbsp mirin
3 Tbsp rice vinegar
Cook your choice of noodles for the lesser time called for (or subtract 2 minutes from standard time) as they will cook further with the sauce and veg. Drain, rinse and drain again (this keeps them from sticking). Keep warm.
In a large cast iron frypan over low heat cook the oil, onion, cabbage, carrot, ginger, garlic and chilli until tender not brown. Add the mushrooms, fish, salt and drained warm noodles.
Add the sweet soy sauce (or mix tamari soy sauce and palm sugar), mirin and vinegar. Cook 3 minutes or more until liquid is mostly absorbed by the noodles. Serve accompanied with salad.
Side Salad Options
Baby spinach or mesclun with sliced red pepper or firm pear; grated daikon (long white radish from Asian stores) or sliced radish; chopped gherkins or toasted sesame seeds. For added protein add one of the following:
• Tahini Dressing (see website RECIPES page);
• Chopped hard boiled egg or omelet strips and homemade mayonnaise/aioli or other dressing;
• Grated tofu and homemade mayonnaise/aioli or other dressing;
• Cooked cannellini beans or other legumes and homemade mayonnaise/aioli or other dressing.
Shopping and Preparation Tips*
• Palm sugar: comes from the syrup of palm trees. It is moist and caramel in colour and taste. Packed in boxes of small brown rounds or squares, it is traditionally used in Thai cooking. It is available from most supermarkets next to other sugars (including organic cane sugars). Chop, grate or melt.
• Pasta/Noodles: Boil most Asian rice noodles in ample water about 5 minutes until tender (or follow packet instructions as per minimum time); drain, rinse to prevent sticking; use. Orgran makes a wide variety of gluten-free pasta (in most supermarkets); usually rice-based or with buckwheat, corn, tapioca or mung bean flour (TIPS: Gluten). Lower in protein than ordinary pasta these are high-GI, so accompany with other blood sugar moderators (eg protein, fat, fibre, culinary acids, crunchy texture).
• Sea salt: is sea water dehydrated by sun. When mixed with seaweed (containing iodine and other minerals low in our soil) it is ideal in terms of flavour (interesting but not too strong) and mineral balance. Try Pacific Harvest or Malcolm Harker brands; both in health and gourmet stores. Ordinary salt is taken from mines or sea and so highly refined over extreme heat that it contains nothing but sodium chloride. All other minerals are stripped away, such as potassium and magnesium which help regulate fluid balance and blood pressure. Bleach as a whitener and chemicals to prevent clumping may be added to table salt.
• Sesame Oil: when made from toasted sesame seeds has depth of flavour and a rich amber colour, which helps darken the pale rolls. Available in small bottles from supermarkets and Asian stores; Ceres brand is organic. Traditionally, Vietnamese use sesame oil as a flavouring rather than cooking oil. For information on which fats to choose for which purpose and why, see my article on the TIPS page: The Fats of Life.
• Shiitake Mushrooms: dried, wrinkly fungi with chewy texture, earthy taste and considerable nutritional properties. High in soluble fibre they help regulate vitality, while glyconutrients and other constituents are linked with improved immunity. They keep for a year dried, and for weeks when in a jar covered with water and chilled. Use the flavourful soaking liquid in soup and sauces. When ready to use squeeze mushroom to remove liquid; slice off and discard woody stem; slice or chop finely.
• Soy sauce: can be a fake, unfermented chemical concoction of caramel colouring, artificial additives, wheat and cheap salt. True soy sauce contains nothing artificial and is naturally brewed for two to three years. It is made by fermenting soybeans with the help of a healthful mould (similar to making yoghurt or cheese); roasted grain – usually wheat or barley – for flavour and fermentation, plus salt. 'Shoyu' is the Japanese word for true fermented soy sauce. 'Tamari' describes naturally brewed soy sauce which does not contain wheat or other grain. In the supermarket look for organic Ceres brand, or plain only Kikkoman (their other varieties usually contain artificial additives including MSG: TIPS).
• Wasabi: similar to most pickled ginger, most wasabi is artificially coloured. Mitoku brand sells powdered wasabi (a type of horseradish) which can be mixed with a little water to instantly form a naturally green paste.