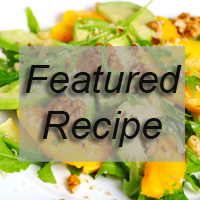 Herb Bread
(No gluten, dairy, yeast, soy, legumes, cane sugar, citrus or nightshades; with low starch/FODMAPS option)
Wonderfully colourful and moist, this slices beautifully and stores well. Serve as is or spread with avocado. Risen with baking powder, not yeast, this is similar in texture to banana bread. Or bake in paper lined muffin cups (serve with soup, salad or in lunch boxes), as tiny muffins for finger food, or in a 20 cm (8″) square pan and served as a slice. These options will need less baking time. All can be frozen and later toasted or reheated.
This recipe was designed for a patient who longed to eat bread but had to avoid all starches except rice. Some people – especially with Irritable Bowel Syndrome that remains unresolved with standard therapies – may have to limit specific types of starch, fibre and sugar. If diagnosed with GAPS (Gut and Psychology Syndrome) they must avoid FODMAPS (Fermentable Oligosaccharides, Disaccharides, Monosaccharides and Polyols). If poorly digested these short chain carbohydrates can drag water into the intestines, ferment and create gas leading to loose or erratic bowel function and bloating (contact this office for an allergy test).
In this case try replacing rice flour with almond flour (from health stores) and adding 1 Tbsp gelatin to help it bind. Onion and garlic are high in FODMAPS so try grated courgette/zucchini with chopped parsley instead. Garlic oil though can safely be used for flavour: coarsely chop 3 large garlic cloves; place in a clean jar with 1/2 cup virgin olive oil. Cover and chill to store; use within one week. Bring to room temperature for a few minutes before use so the oil will liquefy again. Strain as you use it to avoid the garlic.
1½ cups rice flour*
3 tsp gluten-free baking powder
1½ tsp sea salt with kelp*
1 tsp dried thyme
1 tsp dried sage
***
1 cup mashed pumpkin (about 1½ cups raw, then steam and drain)
3 large free range eggs
6 Tbsp extra virgin olive oil*
***
1 cup chopped spring onion including tops (4-5);
or 1/2 cup grated courgette/zucchini; and 1/2 cup chopped parsley
2 large garlic cloves, finely chopped
(or omit and use garlic oil to replace plain olive oil)
In a medium bowl combine the flour, baking powder, salt, thyme and sage. Make a well in the centre and add the pumpkin, oil and eggs. Beat the wet ingredients until well combined. Stir in the onion and garlic or options. Beat the wet ingredients into the dry ingredients until well combined.
Pour into a paper-lined or well oiled 20 x 10 cm (8″ x 4″) loaf tin. Bake at 180°C (360°F) for 45-55 minutes until the centre tests dry with a skewer. Remove from the oven. Let sit on a wire rack for 10 minutes. With a palette (flexible, non-sharp) knife, or small spatula loosen the bread from the sides of the pan. Turn out of the pan and on to the rack. Cool completely before slicing. Slices can be frozen and later toasted.
Shopping and Preparation Tips*
• Olive Oil: Extra virgin olive oil is achieved by using cold mechanical pressure rather than the high heat and chemical solvents typical to most supermarket oils. These practices damage oils and the people who eat them. For information on which fats to choose for which purpose and why, see my article on the TIPS page: The Fats of Life.
• Rice flour: for baking use finely ground (can be called 'zentrofan') whole rice. Results will not be the same with coarse, gritty flour; or Asian rice flour (from starch only; looks sticky like cornflour*). Use brown rice flour (finely milled; not gritty). Or mix ½ brown rice flour (for increased nutrients); ½ white rice flour (for increased lightness) as preferred. For sauces 2-3 Tbsp thickens 1 cup liquid.
• Sea salt: is sea water dehydrated by sun. When mixed with seaweed (containing iodine and other minerals low in our soil) it is ideal in terms of flavour (interesting but not too strong) and mineral balance. Try Pacific Harvest or Malcolm Harker brands; both in health and gourmet stores. Ordinary salt is taken from mines or sea and so highly refined over extreme heat that it contains nothing but sodium chloride. All other minerals are stripped away, such as potassium and magnesium which help regulate fluid balance and blood pressure. Bleach as a whitener and chemicals to prevent clumping may be added.