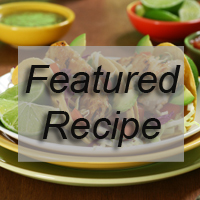 Tex-Mex Beans
Salad, Dip, Spread, Filling, Pie or Casserole

Serves 4 as a main
(Vegan; no gluten, dairy, citrus or egg, with options for cane sugar and nightshades).
A culinary chameleon, ideas follow for serving this as a substantial salad or dip, a sandwich filling, or as one of several main dishes. About half the beans are chunkily processed at first to create a smooth carrier for the punch of the seasonings. The remaining beans and vegetables are stirred in for some visual and textural contrast. Easy and delicious.
Legumes (dried peas, beans and lentils) don't often play played a starring role in New Zealand cuisine. Yet they are inexpensive, easily cooked or purchased tinned, are low in calories and fat, high in soluble and insoluble fibre, a good source of minerals, and protein for vegetarian meals.
Most legumes are best soaked overnight. Drain off the water, add fresh water and boil legumes uncovered until squeezable between two fingers (10-30 minutes for small to large lentils and split peas; 40 minutes for chickpeas; 90 minutes for kidney and other large beans). Cook a large amount and freeze in bags or tubs for easy addition to salads, soups, stews, casseroles, rice dishes, and patties. If legumes give you digestive problems then try them commercially cooked (eg Ceres Organics are in most supermarkets) rather than home-cooked. Commercial soaking and cooking tends to be more thorough, which makes the results more digestible.
Another ingredient called for is savoury flaky yeast. It looks like a tan version of chocolate flakes – but there the similarity ends! It has a nutty, cheesy flavour (much more pleasant than its bitter cousin brewer's yeast) and is the #1 food source of most B vitamins (for healthy hair, skin, digestion, stress management) and hard-to-obtain chromium (makes cells more sensitive to insulin thus enhancing weight management and fuel supply to the brain and body), plus a good source of other minerals and protein. Buy from health stores or some supermarkets. Add to salad, sandwich, smoothie or use as a condiment for sprinkling on lunch or dinner.
In New Zealand, for both men and women, heart disease remains the number one killer. In particular B6, B9 (folate) and B12 (the only active form is from animal foods especially red meat) help prevent high levels of homocysteine linked with dementias and related circulation/cardiovascular problems. The particular type of fibre in legumes is a high achiever for helping the liver remove excess LDL cholesterol, and for preventing trunkal obesity and insulin resistance. Meanwhile the garlic and olive oil used below are anti-inflammatories that help arteries remain flexible rather than hard and stiff. For more supportive foods and protocols see the GOOD HEALTH SOLUTIONS' report: The Heart of the Matter: Significant Strategies for Preventing – and Repairing – Heart, Arterial, Stroke and Other Cardiovascular Damage.
1½ cups (300 g tin) cooked, drained kidney beans* (¾ cup raw beans soaked
and cooked)
3 Tbsp extra-virgin olive oil*
1½ Tbsp prepared mustard (eg Delmaine Dijon brand for no cane sugar content)
1 Tbsp red wine vinegar
1 Tbsp savoury yeast flakes*
2 tsp ground coriander
1 tsp honey
1 tsp oreganum
1 tsp basil
1 tsp sea salt with kelp*
1 clove garlic, chopped
1 small chilli, chopped (optional; or pinch wasabi)
***
2 medium tomatoes, or ¼ cup bottled artichoke hearts (eg Delmaine brand),
or ¼ cup black olives, chopped
2 spring onions, chopped
In a food processor place ¾ cup kidney beans, mustard, vinegar, yeast, coriander, honey, oreganum, basil, salt, garlic and chilli. On medium speed process just until well combined but not a uniform puree. Stir in the remaining beans, tomato or option and onion. Serve or cover and chill.
Variations:
• Place in a bowl or on a platter, surround with cucumber slices and lettuce and serve as a hearty salad.
• Serve as a dip with carrot slices, corn chips, or naan or gluten-free pita bread brushed with olive oil, garlic and toasted.
• Serve half as a salad or dip and the next day use the remainder as a sandwich filling (replace butter with mustard) with lettuce or bean sprouts.
• Serve at room temperature or heat and use as a filling for taco shells, tortillas or wraps.
• Fill small button mushrooms and serve as fingerfood. Garnish with fresh coriander or parsley.
• Spread on grilled eggplant slices (brush unpeeled 10 mm slices with olive oil; grill 5 minutes on each side until soft and brown); roll and place seam side down in oiled casserole dish. Surround with tinned seasoned tomatoes and olives. Bake 180°C (350°F) for 20-30 minutes.
• Use large portabello mushrooms, or halved and hollowed small peppers or large courgettes. Brush with olive oil and season with salt and pepper. Fill. Bake mushrooms for 10-15 minutes at 180°C (350°F) or other vegetables for 20-30 minutes.
• For pie, oil a 23 cm pie dish. Combine 1/½ cups cooked basmati or brown rice with 1 beaten large free range egg, 2 Tbsp olive oil, 2 Tbsp chopped chives or spring onion tops, 1 tsp sea salt. Pat into dish as for a pie crust. Bake 180°C (350°F)  for 10 to 15 minutes to lightly firm. Cover with filling. Bake further 25-30 minutes until firm. Remove from oven and let sit for 10-20 minutes before serving for easier slicing.
Shopping and Preparation Tips*
• Legumes: pod-bearing plants such as peas, beans, soy and lentils. Soak overnight and discard water to help eliminate an enzyme that can lead to poor digestion and gas. Add ample fresh water. Bring to a boil uncovered (watch for foaming; do not add salt as this slows cooking) until soft enough to squeeze between your fingers. They will almost triple in volume. See The Shape Diet for individual cooking times. Or buy cooked and tinned (Ceres and Delmaine brands in supermarkets have only salt, water). Cook extra and freeze, or chill and use within a week in fritters, casseroles, salads, soups, stews.

• Olive Oil: extra virgin olive oil is achieved by using cold mechanical pressure rather than the high heat and chemical solvents typical to most supermarket oils. These practices damage oils and the people who eat them. For information on which fats to choose for which purpose and why, see my article on the TIPS page: The Fats of Life.
• Yeast, flaky savoury: this is the yeast used to make Marmite and similar spreads; not the yeast used for bread making. It looks like pale brown chocolate flakes – but there the similarity ends. High in protein, B vitamins, hard-to-obtain chromium and other minerals. High in one of the 5 core tastes: umami, meaning savoury. Imparts a nutty, cheesy flavour. Buy from health stores and some supermarkets.