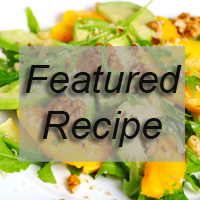 One-Pot Rice and Pistachio Pilaf
Serves 3-4. (No dairy or gluten; with options for soy, eggs, nightshades, legumes, plant/animal protein)
This tasty and convenient one-pot meal is loved by cooks, diners and dishwashers. With the inclusion of your preferred Protein Option, it can be served as a simple meal-in-one. Different vegetables can be used but avoid those like pumpkin that are very soft when cooked – they will make the results mushy. Instead of adding a Protein Option the pilaf can be accompanied with a hearty salad. Think beyond using the traditional tomato – especially after its summer peak – and consider other fruits according to the season: grapes, persimmon, kiwifruit, nectarine, melon, peach, fig and apricot.
Pilaf (pee-lahf) is a classic Middle Eastern rice and vegetable dish – although here it is permeated by some seasonings of a more Asian persuasion. The rice is cooked by the 'absorption' method. This requires less attention by the cook. It also retains more nutrients, which are lost through having the lid off while cooking, draining or rinsing rice.
Remember this method when cooking plain rice. Use 1¾ cups water to 1 cup 'hearty' rice (such as basmati or brown rice); or use 1½ cups water to 1 cup 'lighter' rice (such as jasmine). Cover and bring to a boil. Boil briskly for 3 minutes. If ample water is still evident, turn heat to low and cook further. As soon as almost all the water has been absorbed, turn off the heat. Cover the top and sides of the pan with a towel to trap in the heat and finish cooking the rice without sticking (3 minutes for white rice; about 10 minutes for brown). Be careful that the towel does not touch the burner. Add salt before serving – not before or it slows the absorption of water and lengthens the cooking time (the same is true when cooking legumes).
When planning meals for entertaining, often familiar weekday favourites can be used but with a gala presentation. Just like dramatically accessorising that basic black dress. Any hot, cold, plain or mixed rice dish (such as this pilaf) can be served as timbales. 'Tim-bahls' are small individual moulds. They look impressive but are very easy. Thoroughly oil a small tea cup, water glass, or 250 ml measuring cup. Something with sloping sides is attractive. Pat about 3/4 cup cooked rice inside and firmly press. Immediately – or much later – place rice-side down on a dinner plate or serving platter. If necessary, tap firmly on the upturned base of the mould. It will emerge immaculately shaped. These can be done in advance, covered and later reheated in a low oven. A sprig of fresh herb can be placed on top, or a dollop of aioli, slice of avocado or smoked salmon.
All of the ingredients are available in the supermarket except for my preferred herb salt with kelp, which is flecked and flavourful with high achieving minerals. Look for it in health stores. Other salts may be saltier so adjust amounts accordingly.
1 Tbsp extra-virgin olive oil*
¼ cup pistachios
***
1 large onion, sliced
1 medium courgette/zucchini, thinly sliced
1 red chilli, finely chopped (optional)
1 large garlic clove, finely chopped
3 cm gingerroot, peeled and finely chopped
***
1 cup basmati rice
1 tsp garam masala
1 tsp Chinese 5-spice powder
½ tsp turmeric
***
435 ml (1¾ cups) water or stock
1 medium carrot, cubed
1 cup small cauliflower pieces
¼ cup currants
***
2 tsp dried dill leaf
2 tsp sea salt with kelp*
***
Protein Options:
a) Add 150 grams cubed, firm tofu with the nuts.
b) Add 150 grams prawns or squid rings with the water.
c) Add 150 grams raw or cooked chicken or red meat with the water.
d) Serve with barbecued or grilled kebabs of tofu, fish, chicken or red meat.
e) Serve the pilaf (no added Protein Option) with a salad that includes smoked or tinned fish, hard-boiled eggs, grated firm tofu, cooked chickpeas or other legumes, or cooked sliced meat or fish.
***
In a medium saucepan over low heat, fry the nuts in oil until lightly toasted. Stir in the onion, courgette, chilli, garlic and ginger. Cook 3-5 minutes until softened, not brown.
Add the rice, garam masala and Chinese 5 Spice (both are spice blends), and turmeric. Cook 2 minutes to toast and develop their flavours. Add the water, carrot, cauliflower and currants. Cover and bring to a boil. Boil for 3 minutes. Turn heat to low and cook until almost all the water is absorbed. Turn off the heat. Cover with a hand towel over the top and sides but avoid the burner. Let sit 5 minutes.
Stir in herb salt and dill. Serve as is, garnished with fresh herbs or a surround of sliced cucumber. Or accompany with a salad.
Shopping and Preparation Tips*
• Olive Oil: extra virgin olive oil is achieved by using cold mechanical pressure rather than the high heat and chemical solvents typical to most supermarket oils. These practices damage oils and the people who eat them. For information on which fats to choose for which purpose and why, see my article on the TIPS page: The Fats of Life.
• Sea salt: is sea water dehydrated by sun. When mixed with seaweed (containing iodine and other minerals low in our soil) it is ideal in terms of flavour (interesting but not too strong) and mineral balance. Try Pacific Harvest or Malcolm Harker brands; both in health and gourmet stores. Ordinary salt is taken from mines or sea and so highly refined over extreme heat that it contains nothing but sodium chloride. All other minerals are stripped away, such as potassium and magnesium which help regulate fluid balance and blood pressure. Bleach as a whitener and chemicals to prevent clumping may be added to table salt.