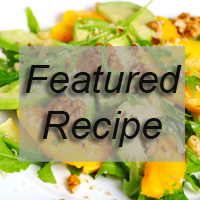 Lebanese Lentil Soup
Serves 3-4
(No gluten, dairy; with options for vegans and no nightshades)
It doesn't get much easier than this: basically, throw everything into a pot and simmer. The final addition of lemon and parsley beautifully refreshes, lifts the colour and provides punch. This has a richer flavour with chicken stock, but can be done vegan with top quality vegetable stock (try a little non-traditional flaky yeast or dark miso* for the umami flavour or savouriness that meat provides). The soup is heartier with soaked green lentils, but you could use red lentils which require no soaking. Adding salt after legumes are cooked helps them cook faster. A stick/immersion blender is easiest to use right in the saucepan.
Soaking legumes*, draining off the water and cooking thoroughly until soft can help make them more digestible. For those who remain socially compromised by legumes, try soaking them overnight or longer then keeping them moist only for a few days so they sprout (this helps break down some of the potentially offending starchy carbohydrates). Then cook as usual. Some people – especially with mysterious gut (see website TIPS' article) problems – should avoid Legumes (TIPS). Contact this office for an allergy test as other culprits are even more likely.
Serve with toast and avocado or make my Herb Bread, Sunflower Muffins, Irish Soda Bread or other favourite (see RECIPES). The soup is very thick and substantial so serve in small amounts.
½ cup soaked green lentils (soak overnight or longer)
500 ml (2 cups) homemade or top quality chicken stock* plus extra
1 large floury potato such as Agria (or use kumara/sweet potato), chopped
1 large onion, sliced
1 large carrot, sliced
1 stick celery, chopped
1 Tbsp chopped ginger root
3 large cloves garlic, chopped
2 tsp cumin powder
1 tsp turmeric
***
¼ cup chopped parsley
2 Tbsp extra virgin olive oil*
grated peel and juice of 1 large lemon
2 tsp sea salt with kelp*
In a medium to large saucepan add the stock, drained soaked green lentils (or use rinsed red lentils), potato/sweet potato, onion, carrot, celery, ginger root, garlic, cumin and turmeric. Cover and bring to a boil. Turn to simmer for 20-30 minutes until lentils and veg are tender.
Add the parsley, oil, salt, lemon peel and juice. Use a stick blender to briefly process – mostly to puree the big pieces of veg. Do not completely puree so there are some contrasting textures and colours evident. If necessary, thin with a little extra stock.
Shopping and Preparation Tips
Legumes
Pod-bearing plants such as peas, beans, soy and lentils (TIPS: Legumes). Soak overnight and discard water to help eliminate an enzyme that can lead to poor digestion and gas. Add ample fresh water. Bring to a boil uncovered (watch for foaming; do not add salt as this slows cooking) until soft enough to squeeze between your fingers. They will almost triple in volume. See The Shape Diet for individual cooking times. Or buy cooked and tinned (Ceres and Delmaine brands in supermarkets have only salt, water). Cook extra and freeze, or chill and use within a week in fritters, casseroles, salads, soups, stews.
Miso
This ancient soybean and rice paste looks something like marmite. Use it as a spread, or flavouring to any stock, soup or sauce. There are many varieties from pale and delicate to dark and gutsy. As a lengthily fermented food, miso can help increase good guy bacteria in the gut and keep the pathogen population down. To gain this benefit, add miso to hot but not boiling liquid, such as at the end of the cooking. Mixing it with a little hot liquid before adding it to the pot will prevent lumps.
Nightshades
Another name for the solanaceae family of potato, tomato, eggplant, peppers (includes paprika, chilli). Some people cannot breakdown its solanine alkaloid (related to nicotine) affecting calcium metabolism, nerves, bones and joints (TIPS: Aches and Pains). To determine sensitivity obtain an allergy test from this office (TIPS: Why You May Be Allergic to the 21st Century).
Olive Oil
Extra virgin olive oil is achieved by using cold mechanical pressure rather than the high heat and chemical solvents typical to most supermarket oils. These practices damage oils and the people who eat them. For information on which fats to choose for which purpose and why, see my article on the TIPS page: The Fats of Life.
Sea salt
Is sea water dehydrated by sun. When mixed with seaweed (containing iodine and other minerals low in our soil) it is ideal in terms of flavour (interesting but not too strong) and mineral balance. Try Pacific Harvest or Malcolm Harker brands; both in health and gourmet stores. Ordinary salt is taken from mines or sea and so highly refined over extreme heat that it contains nothing but sodium chloride. All other minerals are stripped away, such as potassium and magnesium which help regulate fluid balance and blood pressure. Bleach as a whitener and chemicals to prevent clumping may be added to table salt.
Stock
Use homemade meat, fish or vegetable stock (see The Shape Diet), or top quality purchased stock such as Essential Cuisine (in soft pouches in the supermarket chiller or meat section). Most supermarket stock has sugar, wheat and artificial additives (see website TIPS: MSG).