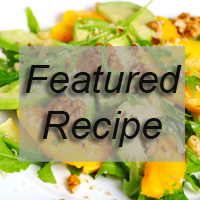 Honey and Hazelnut Ice Cream
Makes 1½ litres/quarts
(No dairy, with options for gluten, soy, and cane sugar)
Somewhere within most people's memories of childhood is the excited purchase of an ice-cream. In the past, flavours were limited but decision making remained intense and debated. Hot days and cool, creamy contentment made for a winning combo with drippy, sticky, satisfied licking.
Unfortunately most commercial ice-creams today have labels that read more like a lab report than a food product. Hydrogenated fats (see TIPS for The Fats of Life), excessively modified and treated dairy components (see TIPS for Modern Milk – No Longer a Natural Food), highly refined sugars and starches, artificial flavours (see TIPS for Eating With Your Eyes Shut), colours and sweeteners have removed the innocent charm and added the disturbingly toxic.
Try this yummy alternative instead. Multi-layered with naturally sweet flavours, and the non-alcoholic version is cane sugar free. This works successfully without an ice cream maker. Homemade ice creams can become a little dense with freezing, so allow it to sit at room temperature for 15 minutes before scooping into bowls. Serve as is, or with fresh berries.
For something special or when entertaining, layer the ice-cream in stemmed glasses with crumbled cake (such as my Glazed Almond Fruitcake), cookies or Larabars (from health stores – try the Chocolate type; no sugar, dairy, gluten or soy), or pureed fruit (fresh berries make an instant sauce, or use stewed rhubarb with ginger). Partially slice a whole strawberry so it will sit on the rim of the glass, and dust the top of the ice-cream with cocoa powder or freshly ground cinnamon. Or use a tiny bamboo skewer, cocktail stick or toothpick and skewer any combination of two or three fresh and/or dried fruits such as cherry, pineapple and fig. Stick this slightly into the top of the ice-cream. Or serve tidily scooped ice-cream in a decorative old-style soup bowl with a rim. Across the rim place one or two larger skewers of fruit 'kebabs'.
When entertaining it is less stressful and more likely successful, to utilise glammed-up versions of well tested ideas. The ice-cream is easy and can be made well in advance, but presentation can elevate it into the stunning. Simple recipes such as this can carry the 'wow' factor courtesy of visual enhancements. We eat with our eyes and nose well before food reaches the mouth.
½ cup chopped raisins
60 ml (¼ cup) Frangelico (hazelnut liqueur) or rum
   (both of these have cane sugar), or pineapple or orange juice
***
375 ml (1½ cups) soymilk or oat milk*,
or 300 ml rice milk + 75 ml coconut cream*
125 ml (½ cup) honey
4 Tbsp rice flour*
½ tsp nutmeg
***
2 large free-range eggs
1 tsp natural vanilla extract*
½ tsp natural almond extract
***
250 ml (1 cup) coconut cream*
1 cup mashed banana (about 2 large)
¼ cup finely chopped (but not ground) toasted hazelnuts
In a small jar mix the raisins and liqueur or option. Cover, and set aside for 2 hours or more until the liquid is absorbed. In a small to medium saucepan beat together the milk option, honey, flour and nutmeg. Bring to a boil, stirring frequently, until the mixture is thick and smooth. Remove from the heat. In a small bowl beat the eggs with the essences. Beat the eggs again while slowly pouring in about 1 cup of the hot custard – this process will cook the eggs and thicken the custard without curdling. Beat the egg mixture into the remaining custard. Stir in the raisin and soaking mixture.
Chill until room temperature (the pot can sit inside a bowl or sink of cold water to speed this). In a food processor combine the coconut cream and banana until smooth. Add the cooled custard and the hazelnuts. On low speed, process very briefly just to combine. Pour into a 1½ – 2 litre (2 quart) plastic tub and freeze for 4-5 hours until not quite frozen solid. Place the mixture back into the processor and briefly process on low speed (partially freezing the mixture, and then beating it again when it is only half frozen, produces a much creamier, well-textured result). Freeze for 2 hours or more until firm. This keeps up to 3 months.
Shopping and Preparation Tips*
• Coconut cream: a tinned product from the South Pacific and found in most supermarkets. It should have the consistency of pouring cream and contain no dairy, flour or added sugar. 'Lite' types are not necessary: they just have added water and more processing. Instead use only a small amount of the 'cream' version, or thin with water, Milk Option or stock – depending on the needs of your recipe.
• Milk Options: organic cow, goat, soy, oat, almond or hazelnut milk is available in most supermarkets. Or use rice milk – to each cup 1 Tbsp coconut cream can be added for more body. Use options in the same quantity as regular milk called for in recipes. Check packet milks for added sugar; ensure soy milk is made from the whole bean (less processed). Pure Harvest is a good brand with many varieties; whole, organic, no added sugar.
• Rice flour: for baking use finely ground (can be called 'zentrofan') whole rice. Results will not be the same with coarse, gritty flour; or Asian rice flour (from starch only; looks sticky like cornflour*). Use brown rice flour (finely milled; not gritty). Or mix ½ brown rice flour (for increased nutrients); ½ white rice flour (for increased lightness) as preferred. For sauces 2-3 Tbsp thickens 1 cup liquid.
• Vanilla: use real vanilla, often termed extract (as opposed to faux essence, often labelled 'vanillin') and one without artificial additives. Good brands available locally and overseas are: Heilala Vanilla and Equagold. These are in most supermarkets and health stores.