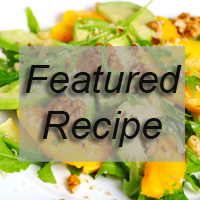 Fluffy Breakfast Pancakes
Serves 4
(No gluten, dairy or cane sugar)
Watch these disappear. High in calcium, hormone-balancing isoflavones, and vitality-sustaining protein, low GI, yet delicate of structure, these will entice even the breakfast-phobic. No one will ever guess the ingredients involved. Maple syrup is a classic topping, or try new Apple Syrup, which is available in supermarkets and is free of added sugar.
Note the steps to making 'soured milk'. This is an age-old baker's technique to improve lightness and moistness – it also increases the digestibility of grains. The method can be utilised to produce an exchange for yoghurt in many recipes.
Enjoy a special brunch each weekend. Not only is this a delicious change of pace but such simple occasions foster greater bonding with spouse, children or friends. Social exercise is as imperative to good health as physical exercise. It and learning new skills (recipes qualify!) have been specifically linked with increased longevity, and lessened likelihood of cognitive decline and dementia.
For more on improving brain function and longevity see the GOOD HEALTH SOLUTIONS' report The Heart of the Matter: Successful Strategies For Preventing – and Repairing – Heart, Arterial, Stroke and Other Cardiovascular Damage.
2 Tbsp lemon juice or apple cider vinegar
155 ml Milk Option*
***
1 cup (almost ½ of a 300g block) finely crumbled – by hand or food
processor – firm organic tofu*
4 large free-range egg yolks
2 Tbsp mild or nutty cold-pressed oil*
2 Tbsp honey
***
1 cup rice flour*
2 tsp gluten-free baking powder
***
4 large free-range egg whites
pinch of sea salt
additional oil for cooking
***
Toppings:
Maple syrup or apple syrup
Fresh, cooked, or tinned (without added sugar) fruit such as strawberries and
banana; peach; nectarine; persimmon; stewed rhubarb (sweeten with palm
sugar or stevia), plums, or apple with cinnamon and raisins
To sour milk, place the lemon juice or vinegar in a measuring cup. Pour in the Milk Option to make 185 ml (¾ cup). The milk will curdle.
In a food processor place the tofu, egg yolks, Milk Option, oil and honey. Process until smooth. Beat in the flour and baking powder.
Using an electric mixer – or with a whisk – beat the egg white and salt until stiff peaks form. Gently fold the whites into the tofu mixture just until mixed (some white can remain).
In a large heavy fry pan heat a light film of oil over medium heat. Using a large spoon create about 20 six cm (2″) rounds of batter. Cook 2 to 3 minutes until lightly browned. Flip once and cook 1 minute until just cooked. Keep warm between batches and serve immediately.
Offer help-yourself toppings or serve as double-deckers: place one pancake on a plate, top with fruit and a drizzle of syrup. Then top with another pancake, fruit and syrup. Prepare for popularity.
Shopping and Preparation Tips*
• Milk Options: organic cow, goat, soy, oat, almond or hazelnut milk is available in most supermarkets. Or use rice milk – to each cup 1 Tbsp coconut cream can be added for more body. Use options in the same quantity as regular milk called for in recipes. Check packet milks for added sugar; ensure soy milk is made from the whole bean (less processed). Pure Harvest is a good brand with many varieties; whole, organic, no added sugar.
• Oil Options: peanut, coconut, grapeseed, untoasted sesame, high oleic sunflower. These have a mild or nutty taste suitable for pancakes and baking, plus nutritional factors that make them less easily damaged by heat.
• Rice flour: for baking use finely ground (can be called 'zentrofan') whole rice. Results will not be the same with coarse, gritty flour; or Asian rice flour (from starch only; looks sticky like cornflour*). Use brown rice flour (finely milled; not gritty). Or mix ½ brown rice flour (for increased nutrients); ½ white rice flour (for increased lightness) as preferred. For sauces 2-3 Tbsp thickens 1 cup liquid.
• Tofu: Use firm tofu for most uses such as chopping or grating. It usually comes in a plastic wrapper in the chilled food section of the supermarket. Use the silken tofu for smoothies, miso soup or in many desserts. Silken tofu is very soft like custard and usually comes in a box.