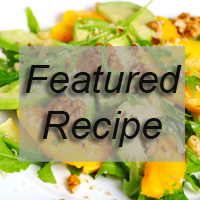 Orange Ginger Fruit Loaf
(No gluten, dairy, cane sugar or soy)
Moist, flavourful and long keeping, this has a taste and texture similar to fruitcake. The loaf is high in fibre, protein (see my website TIPS page for Protein for the surprising contribution dried fruit makes) and is low GI. It is ideal for snacks or in the lunch box. You could also try baking the mixture as a cake, slice or muffins.
If you are the ENTHUSIAST or ANALYSER body-type (see The Shape Diet) then you need to limit sweet, starchy foods or they interfere with blood sugar regulation – and thus moods, vitality and weight management. Instead have occasional treats like this that are supportive rather than weakening.
A good lunch for such carb-craving body-types is to have soup; or fresh, crunchy salad with a light protein such as legumes (see RECIPES) and the flavour punch of homemade dressing or Pesto (see RECIPES). Then follow with a thick slice of Fruit Loaf. Calorie-wise baking then helps bulk up and make up the meal, rather than act as a heavy add-on.
250 ml (1 cup) orange juice, from 3-4 squeezed oranges*
300 g (1½ cups) mixed chopped dried fruit, such as apricots, apple and
   raisins
200 g (1¼ cups) chopped dates
***
3/4 cup cooked, mashed pumpkin*
½ cup coarsely chopped walnuts
1 large free-range egg
6 Tbsp cold-pressed oil*, such as olive or high-oleic sunflower
grated peel of 1 orange
2 Tbsp grated gingerroot
1 tsp powdered ginger
***
1¼ cups rice flour*
2 tsp gluten-free baking powder
1 tsp baking soda
Place the juice, dried fruit and dates in a medium saucepan. Cover and bring to a boil. Simmer for 3 minutes. Stir well and allow to cool completely (this can be done overnight; or put the saucepan in a sink full of cold water to cool quickly). Beat in the pumpkin, nuts, egg, oil, peel and ginger until well mixed. Stir in the flour, baking powder and soda until completely incorporated.
Pour into a baking paper-lined 20 x 10 cm (8" x 4") standard loaf pan – allow enough paper to overhang slightly. Bake at 180°C (35o°F) for 55-65 minutes until a skewer inserted in the centre comes out dry. Remove from oven and let sit for 10 minutes. Holding the paper overhang, remove the loaf from the pan. Cool completely on a wire rack. Slice with a very sharp knife (not a serrated one) to prevent crumbling*.
Shopping and Preparation Tips*:
• Grate the orange peel before you slice and juice the oranges.
• Make mashed pumpkin for dinner and before seasoning save some for the loaf. This can be refrigerated or frozen.
• Fats: see TIPS The Fats of Life for information on which oils to use, why and how.
• Rice flour: non-gluten flours such as rice flour need wetter batters and more leavening agents (such as baking powder) to rise sufficiently and not produce dry results. If wheat and gluten are well tolerated then you can replace 1¼ cups rice flour with 1½ cups white flour (or do ½ white and ½ finely milled whole wheat). Reduce baking powder to 1½ tsp. This proportion of exchange (from rice to wheat, or wheat to rice flour) can be used with other cake recipes.
• Guar gum: add 1 tsp guar gum (from health stores) to a cake, loaf or other baking to prevent the crumbling that gluten-free baking is prone too. Sufficient eggs also help as a binder.