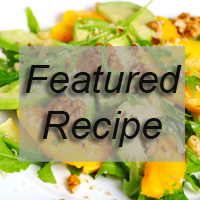 Fluffy Hotcakes/Pikelets
Makes 24; serves 3-4
No gluten, dairy, soy or cane-sugar
Serve this popular fare sweet or savoury; for breakfast or a fun dinner. These are so moist and fluffy they do what few of the pancake family can accomplish: they are even nice the next day for snacks, lunch or reheated. This recipe was adapted from a wheat-flour-based Jamie Oliver recipe and was made with the inspiration of my teenage, pancake-loving friend Lily. Technically when such batters fill a pan they are pancakes; if large, thin and with no leavener such as baking powder, they are crepes; if served small they are hotcakes or pikelets.
Including lots of egg helps makes these high in Protein (see website TIPS article). This is significant for regulating blood sugar levels and thus mood, energy and Weight (TIPS). Animal protein such as egg also increases the availability of the plant protein in the flour and plant Milk Options*. For a low-starch option try replacing the rice flour with almond or coconut flour (from health stores). Protein is #2 for regulating blood sugar. For more on other critical factors see the HEALTH STORE page for my report You Are Just A Few Steps Away From Peak Vitality.
Try my easy Apricot Whip recipe below as a creamy topping. This is also great on cereal, or as a fruit yoghurt-like snack. It has a sunny colour and creamy texture. Tested by children and proven popular. Use a little less liquid and it is thick enough to work in a piping bag for decorating glamorous desserts. Try it with my dark Vegan Chocolate Cake.
3 large egg whites
¾ tsp sea salt*
***
3 large egg yolks
1 cup rice flour*
185 ml (¾ cup) Milk Option*
2 tsp gluten-free baking powder
***
few tsp mild cold-pressed oil*
Using an electric beater or whisk beat the egg whites in a clean, small to medium bowl until somewhat thickened. Gradually beat in salt until stiff. (The true test is upturning the bowl over your head with no egg white falling out!). Set aside.
In another medium bowl beat the egg yolks, flour, milk and baking powder until smooth. With a spatula gradually and carefully fold in the egg whites until the mixture is light, fluffy and well incorporated. Small bits of visible egg white are fine.
Heat a little oil in a sturdy cast iron frypan or griddle over medium heat. Splash a tiny bit of water in the pan and it should sizzle. Add batter in 2 Tbsp amounts to make 24 hotcakes. Cook about 2 minutes just until bubbles start to appear on top. Flip only once and cook about 1 minute. Cook hotcakes in batches and keep warm in low 100°C oven. Serve immediately with your choice of Sweet or Savoury Accompaniments.
Sweet and Savoury Accompaniments
• Sliced banana, lemon juice and chopped dates or prunes.
• Fresh or frozen blueberries cooked with blueberry or other dark jam* and a little cornflour/cornstarch to thicken into a sauce.
• Your choice of fresh fruit – raw or cooked – with real maple syrup or apple syrup (no added sugar; both from supermarket).
• Better Butter (dairy-free; see website RECIPES) with jam*.
• Apricot Whip: soak ¼ cup dried apricots overnight in ¼ cup water until soft, or simmer covered in hot water until rehydrated; puree it all with ¼ cup coconut cream* until smooth and thick. Cover and chill to store.
• Sweat* mixed fruit and veg such as sliced tart apples with onion and courgette; or corn, green beans or asparagus, with dried cranberries or sliced dried figs.
• Fry free-range, dry-cured, additive-free bacon pieces (such as Henderson's; in supermarket), or soy-based 'sausage' slices until crisp; remove from heat; cook fruit and veg combo as above; when cooked stir in bacon/sausage to reheat.
Shopping and Preparation Tips*
• Coconut cream: a tinned product from the South Pacific and found in most supermarkets. It should have the consistency of pouring cream and contain no dairy, flour or added sugar. 'Lite' types are not necessary: they just have added water and more processing. Instead use only a small amount of the 'cream' version, or thin with water, Milk Option or stock – depending on the needs of your recipe.
• Jam/Marmalade: Buy jam and marmalade made from fruit with fruit juice only as a sweetener, and no artificial additives. The St Dalfour brand is available in supermarkets.
• Milk Options: organic cow or goat; soy, oat or nut milk. Or use rice milk – to each cup 1 Tbsp coconut cream can be added for more body. Use options in the same quantity as regular milk called for in recipes. Check packet milks for added sugar; ensure soy milk is organic and made from the whole bean. Pure Harvest is a good brand with many varieties; whole, organic, no added sugar.
• Oil: mild, cold pressed oil suitable for baking and cooking is Ceres brand Organic Roasting and Frying Oil (from health stores). It is also second to extra virgin olive oil for affordability. For information on which fats to choose for which purpose and why, see my article on the TIPS page: The Fats of Life.
• Rice flour: for baking use finely ground (can be called 'zentrofan') whole rice. Results will not be the same with coarse, gritty flour; or Asian rice flour (from starch only; looks sticky like cornflour*). Use brown rice flour (finely milled; not gritty). Or mix ½ brown rice flour (for increased nutrients); ½ white rice flour (for increased lightness) as preferred. For sauces 2-3 Tbsp thickens 1 cup liquid.
• Sea salt: is sea water dehydrated by sun. When mixed with seaweed (containing iodine and other minerals low in our soil) it is ideal in terms of flavour (interesting but not too strong) and mineral balance. Try Pacific Harvest or Malcolm Harker brands; both in health and gourmet stores. Ordinary salt is taken from mines or sea and so highly refined over extreme heat that it contains nothing but sodium chloride. All other minerals are stripped away, such as potassium and magnesium which help regulate fluid balance and blood pressure. Bleach as a whitener and chemicals to prevent clumping may be added to table salt.
• Sweat: is a verb meaning to cook foods in a tiny amount of oil over low heat (often partly covered) until moisture is released. They will soften but not brown. Ideal for vegetables, requiring less oil and involving less heat damage. Best to use a pot or pan with a heavy base to prevent sticking.