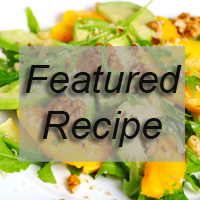 Banana Spice Cake
(No gluten, dairy, cane sugar or soy)
Many people think that gluten-free means dry, and sugar-free means boring. This cake is a sweet, moist and fluffy repudiation. You could serve it to anyone and its ingredient past would remain safely anonymous.
One of the natural sweeteners is dates, cooked until a sweet puree forms, similar to the syrup that sugar converts to when heated. Even 'date-haters' will not notice its background presence. There is also the sweet contribution of the banana, raisins, vanilla, spices and shiny come-hither fruit topping. All of which offer health benefits as well. Unfortunately those pretty white crystals in a sugar bowl near you have a dark side – historically and nutritionally. See my website TIPS for SUGAR: Are You a Slave to Sweetness?
The fibre, protein and healthy fat content of this cake means it will help rather than hinder blood sugar levels (see HEALTH STORE for: You Are Just a Few Steps from Peak Vitality). The nuts and dried fruit generously provide minerals. So yes, you can have your cake and your cane sugar-free, healthy diet too.
1½ cups water
1½ cups chopped dates
***
2 large free-range eggs
2 large or 3 small ripe bananas
125 ml (½ cup) mild cold-pressed oil*
1 tsp pure vanilla extract*
***
1¼ cups rice flour*
¾ cup raisins
1/2 cup chopped walnuts
3 tsp mixed spice
1½ tsp baking soda
1½ tsp gluten-free baking powder
***
¼ cup flaked almonds
***
4 Tbsp fruit-only apricot jam*
2 Tbsp water
Place the water and dates in a medium saucepan. Bring to a boil uncovered. Boil for 10 minutes, stirring occasionally. Remove from heat. Stir until the dates have become thick and gooey. Let sit until completely cool.
In a food processor place the eggs, bananas, oil and vanilla. Puree until smooth. Add the date mixture and pulse briefly. Add the flour, raisins, nuts, spice, baking soda and powder. Pulse briefly just until well mixed. Pour into an oiled, deep-sided 23-25 cm baking dish*. Sprinkle top evenly with flaked almonds. Bake at 180°C (350°F) 45-55 minutes until the centre tests just dry when pierced with a skewer.
Prepare the topping while the cake is hot. In a small saucepan bring the water and jam to a simmer. If necessary use a fork to mash any large chunks of apricot. When reasonably smooth, remove from heat. Pour the hot mixture over the hot cake (this produces a lasting shine that sets firm). Use a pastry brush to spread it completely.
Shopping and Preparation Tips*:
• Oil: for advice on fats suited to cooking and baking, see website TIPS: The Fats of Life for options and explanations. Eg Use almond, peanut, or high oleic sunflower/safflower oil.
• Vanilla: use real vanilla extract (as opposed to faux essence, often labelled as 'vanillin') and one without artificial additives. Good brands available locally and overseas are: Heilala Vanilla and Equagold.
• Rice flour: the best rice flour for baking is from very finely ground (sometimes called 'zentrofan') whole rice. The results will not be the same with Asian rice flour which is made from the starch only and looks sticky like cornflour (US: cornstarch); or from coarse ground rice.
• Jam: buy jam made from fruit with fruit juice only as a sweetener, and no artificial additives. The St Dalfour's brand is readily available in supermarkets.
• Cake pan: for all cakes use a white, ceramic round dish (such as Haven Ceramic Bakeware; inexpensive and available from Farmers and cookware shops). Its thick sides help prevent over-browning, and drying during storage. No need to turn the cake out. Allow to cool in the dish on a rack. Then store and serve from the attractive container. Helps avoid baking in metal – or worse – plastic. Easy to clean too.