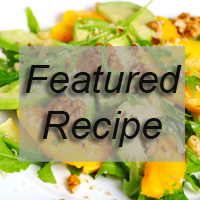 Personalised Pizza
(With options for every diet)
Can't eat gluten, bread, yeast or starch? No cheese? No tomatoes? No problem!
Sometimes your body needs extra care around food choices. You can ignore it; complain about it; or you can be resourceful. As a recent update on the 'make lemonade' aphorism advises, "If life hands you lemons, give them back and ask for chocolate". There are usually innovative options to most predicaments. Diets aren't limited so much as attitudes are.
Play with the mix & match combinations that follow. The same logic – and many of the suggestions – applies to dishes such as lasagne, casseroles, or pasta with sauce (see website RECIPES for Pasta Perfecto). More critical to success than obeying tradition in every detail is to: 1) Employ some permitted classic touches (such as garlic, olive oil, basil, oreganum, rosemary); 2) Stimulate as many taste bud zones as possible (see Seasoning Tips below); 3) Maintain interest with contrasting textures: resistant, soft and creamy.
Try your choice of bread, grain or vege base with my pesto, hummus or tahini sauce; top with veg, perhaps artichokes or olives; optional free-range bacon or prawns; or after baking dollop with avocado and smoked salmon or my Tofu Sour Cream. Or offer a range of bases and easy toppings for a fun make-your-own night. Serve with a side salad and enjoy the compliments. At a famous San Francisco eatery I tried pizza baked with a topping of thinly sliced lemon and broccoli. Sounds ungainly, but the astringency and crispness helped it work as a delicious whole.
With all items listed, read labels and choose wholefood products without artificial additives; organic where possible. Almost everything is at the supermarket unless stated as health store (HS) or specialty store. (Note: s & p refers to salt and pepper; legumes are dried peas, beans, lentils; cook or buy tinned).
Bases
• Wholemeal pita bread; Turkish Kitchen pizza bases; naan; mountain bread; wraps; chapatti; roti; tortillas (some of these have no yeast; 100% corn tortillas also have no gluten).
• Spoilt For Choice pizza bases and flat breads (HS – no wheat, gluten, dairy, soy, nightshades, egg).
• Large rice crackers; bread plain or toasted; Irish Soda Bread (website Recipes; bake portion in pizza dish or slice pre-cooked loaf to fit).
• Cooked polenta (see packet: boil with stock/water, onion, garlic, s & p, olive oil; spread in oiled pan).
• Cooked grain (barley, rice, millet, buckwheat, amaranth or quinoa; add olive oil, herbs, s & p; to bind add egg, or soy or chickpea flour, or mashed veg or legumes; spread in oiled pan).
• Raw large mushroom caps; or raw peppers or tomatoes (halve and remove seeds/pulp).
• Mashed veg or legumes (add olive oil, s & p; bind as for 'cooked grain' above; spread in oiled pan).
• Cooked 10 mm thick eggplant slices (don't peel; brush with olive oil and Fan Grill/Grill until soft).
• Cooked onion rounds (slice horizontally into 2 or 3 intact layers; brush with olive oil; sprinkle with s & p; fry, bake or Fan Grill/Grill until soft).
• Cooked courgettes (slice thin lengthwise, or hollow and fill; oil, season and cook as above).
• Cooked pumpkin (slice large and flat; or hollow) or potato slices (thin and overlapped; oil/season/cook as above).
• Omelet (prepare 4-6 egg omelet with chopped or grated veg: eg courgette, onion, mushroom).
Sauces
• Tomato-based, home made or purchased.
• Plum sauce (replace tomato with chopped fresh, tinned or frozen plums as per standard pasta sauce recipe i.e. fry in olive oil with onion, garlic, courgette, mushroom or peppers; optional bacon, sausage or meat; then add red wine or red wine vinegar, or meat stock and pomegranate molasses*; brown or palm sugar*; soy sauce* or herb salt; basil; oreganum; rosemary; optional olives, chilli).
• Pumpkin sauce (prepare as above replacing tomato/plum with mashed pumpkin – or cube pumpkin, fry as above and mash in pan).
• Coriander/Basil Pesto (website RECIPES).
• Tofu Sour Cream (see website HEALTH STORE: Recipes For A Long & Delicious Life).
• Tahini (sesame seed paste) sauce mixed with lemon juice; spring onion; soy sauce* or fish sauce*.
• Tahini, almond butter, cashew butter or Dynamite (see website HEALTH STORE: The Shape Diet) thinned with chilli sauce, mayonnaise, aioli or my Green Herb Dressing (The Shape Diet); lemon juice, vinegar or pomegranate molasses*.
• Hummus (purchase or see my website recipe variations under Legumes) mixed with onion, basil, oreganum, olives or toasted pinenuts.
• Creamy Salmon Sauce (website RECIPES).
• Tex-Mex Beans or Satay Stew (website RECIPES).
• See Pasta Perfecto for more sauce recipes and ideas (website RECIPES).
Toppings

• Raw vegetables (tomato; pepper; mushroom; courgette; onion; radish; corn; peas; chopped snow peas).
• Cooked vegetables (pumpkin; kumara/sweet potato; potato; yam; green beans; beetroot; eggplant; thin slices cauliflower/broccoli; caramelised onion: sauté over low heat 30 minutes or more until sweet).
• Protein: all but the top 3 veg/fruit sauces can supply sufficient protein especially if combined with grain in the base (bread, cracker, cooked grain options). To increase protein in vege sauces try mashing in tinned sardines or anchovies – this adds background savoury grunt/umami* without being obvious to reluctant diners. Or top choice of sauce with: raw chicken, free range bacon, sliced sausage, lamb or beef mince (ensure raw meat is the final topping so it gets enough heat to cook all the way through); left over cooked meat; tinned fish; fresh fish; raw defrosted squid rings or prawns; tofu/tempeh (grate; or cube and marinate in soy sauce, fish sauce or chilli sauce; or tahini and lemon juice/vinegar); whole or mashed and seasoned legumes; mashed feta or Soy Cream Cheese; grated parmesan/mozzarella.
• After cooking options: cubed avocado; smoked salmon; dollops of Green Herb Dressing or Tofu Sour Cream (Recipes For A Long & Delicious Life) or Creamy Salmon Sauce; chopped fresh herbs, rocket or mesclun; drizzle of Coriander/Basil Pesto; bottled artichokes, capers, pickled ginger, hot or marinated peppers, sun-dried tomatoes in oil.
Preparation
Choose ready to use Base or cook as per instructions. Place in lightly oiled oven to table dish. Cover with choice of Sauce and Topping. Fan Grill at 180°C (350°F), or Bake at 190°C (375°F) for 15-45 minutes with the longer time for raw vegetables and raw meat. For crisper bread base cook near the bottom of the oven. If pizza is large rather than small individual ones, allow to sit 10 minutes in warm place for easier slicing.
Seasoning Tips*
• To deliver flavour, dishes of all types rely on either ample fat (eg. cream, butter, cheese, chocolate) or combinations that trigger as many of the palate's 5 receptor areas as possible: sweet; sour; salty; bitter (raw greens, many spices and herbs, citrus peel, cocoa, coffee); umami or savoury (soy sauce, fish sauce, miso, tomato, yeast, seaweed, mushroom, aged cheese, meat/fish/stock). Heat too adds punch via chilli, hot paprika/mustard, horseradish, wasabi, Vietnamese mint.
• Sweet options (for more info see my TIPS article: SUGAR): cane sugar products (white, brown, molasses etc); palm sugar (crystallised syrup from palm trees; used in Thai cooking); date sugar (HS); honey; maple syrup; apple syrup; rice malt; barley malt; stevia; chopped or soaked dried fruit (especially dates, figs, prunes); pureed fresh/tinned fruit (eg. apple, peach, kiwifruit, persimmon); coconut cream; pineapple juice; mashed/grated vegetables (sweet potato, pumpkin, beetroot); nutmeg, cinnamon, allspice, vanilla; sherry, port, Marsala and other sweet wines and liqueurs.
• Sour options: lemon or lime juice; vinegar (rice, malt, wine, sherry, balsamic, apple, white); pomegranate molasses (tart syrup available from gourmet food stores and some HS; no added sugar); tamarind paste (used in Thai cooking); dry wine; yoghurt or other fermented milk products; pickled foods such as gherkins, olives, capers, artichokes, pickled ginger; umeboshi plums (Japanese; HS).
• Salty options: sea salt; herb salt; naturally fermented soy sauce (plain only Kikkoman; shoyu; only tamari is wheat free); Thai or Vietnamese-style fish sauce (translucent; not thick and with many additives like most Chinese fish sauce); miso (fermented soybeans with rice or barley); dried bonito (fish) flakes (Asian food stores; used to make stock such as for miso soup); olives and olive paste/spread or tapenade; dried or prepared mustard; savoury yeast flakes; my Dynamite recipe (The Shape Diet); seaweed (ground; ripped sheets; or fronds-HS); Worcestershire Sauce (has cane sugar, chilli).